Shopify Store Development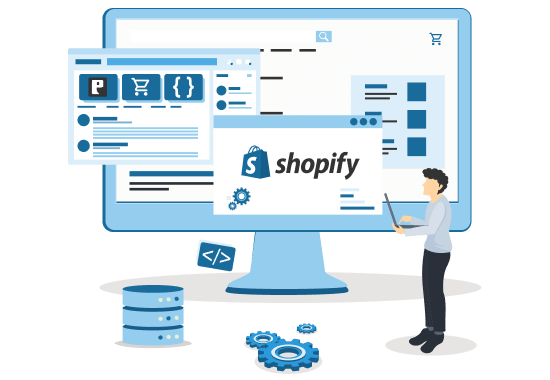 Ready to start selling online? Let us create a stunning and fully functional Shopify store for you. Our expert team will handle everything from store setup to design and development, giving you a hassle-free experience and a powerful e-commerce platform that will help you drive sales and grow your business.
Shopify is a leading e-commerce platform, commanding approximately 30% of the market share and being the platform of choice for nearly 30% of all online stores. Its widespread adoption is a testament to its popularity and success. Shopify offers businesses a user-friendly interface, comprehensive features, and a robust ecosystem of apps and themes. With scalability and reliability, it enables seamless inventory management, secure payment processing, and customizable storefronts. Shopify empowers businesses with marketing, SEO, and analytics tools, while providing excellent customer support. Its simplicity and versatility make it an ideal choice for businesses of all sizes, driving their online success.
At Profi.Dev, we possess a wealth of expertise in developing top-notch Shopify stores, specializing in a diverse range of services to cater to your unique needs. Our skilled team is well-versed in crafting highly customized checkout pages for Shopify Plus plans, ensuring a seamless and personalized user experience that aligns with your brand.
Additionally, we excel in the development of custom apps, tailoring the functionality of your Shopify store to suit your specific requirements. Whether you need custom features, integrations, or enhanced capabilities, we have you covered.
Moreover, we offer Shopify theme development from scratch, creating visually stunning and fully customized themes that perfectly reflect your brand identity and business objectives.
We are dedicated to providing you with a tailored solution that meets your needs entirely. Partner with us and unlock the true potential of Shopify for your online success.