HubSpot Website Development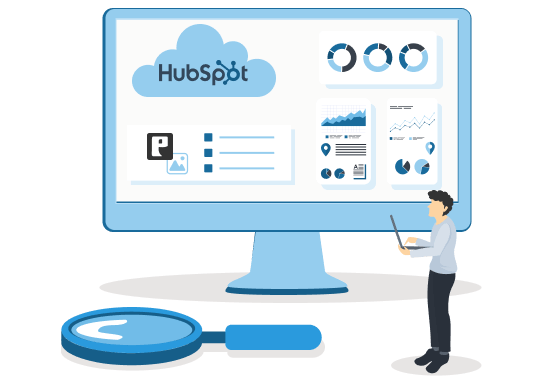 Experience the power of HubSpot with our expert website development services. We specialize in leveraging the robust features of HubSpot to create stunning websites that drive results. Partner with us to elevate your online presence and revolutionize the way you do business.
At Profi.Dev, we understand that your website is the face of your business in the digital world. That's why we offer comprehensive HubSpot website development services, combining our technical expertise with the exceptional capabilities of the HubSpot platform.
Why Choose HubSpot?
All-in-One Platform: HubSpot provides a powerful suite of tools that streamline your marketing, sales, and customer service efforts. From content management to lead generation and analytics, HubSpot offers a centralized platform to manage your entire customer journey.
Seamless Integration: As a top HubSpot development partner, we ensure seamless integration of HubSpot with your existing systems and processes. This allows for efficient data synchronization, enabling you to gain a holistic view of your customers and make data-driven decisions.
Personalized User Experience: With HubSpot, we create websites that deliver personalized experiences to your visitors. Leverage smart content, dynamic pages, and targeted messaging to engage your audience and drive conversions.
Scalability and Flexibility: HubSpot grows with your business. Whether you're a mid-sized company or a large enterprise, our HubSpot website development services can scale to accommodate your evolving needs. Enjoy the flexibility to adapt your website as your business expands.
Analytics and Reporting: Gain valuable insights into your website's performance with HubSpot's comprehensive analytics and reporting features. Monitor visitor behavior, track key metrics, and optimize your website for maximum impact.
Why Choose Profi.Dev?
Expertise and Experience: Our team of seasoned professionals has extensive experience in HubSpot website development. We have successfully delivered projects for mid and large-sized businesses across various industries, ensuring outstanding results every time.
Tailored Solutions: We understand that every business is unique. Our approach involves collaborating closely with you to understand your specific goals and requirements. We then create a customized HubSpot website that reflects your brand identity and achieves your business objectives.
Results-Driven Approach: Our primary focus is on driving tangible results for your business. Whether it's generating leads, increasing conversions, or improving user experience, we design and develop HubSpot websites that deliver measurable outcomes.
Client-Centric Philosophy: We prioritize building strong, long-term relationships with our clients. Our team is dedicated to providing exceptional customer service, effective communication, and ongoing support to ensure your satisfaction at every stage of the project.
Unlock the full potential of HubSpot with our professional website development services. Contact us today to discuss how we can help your business thrive in the digital landscape.